How it Works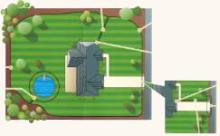 Click the image to see more detail.
A wire is laid around the perimeter of the property or chosen area and is either buried a couple of centimetres underground or attached to existing fencing. A transmitter sends a low power, low frequency radio signal continuously around the wire which acts as an aerial.
Your pet (or pets - there can be any number of them on the same system) wears a tiny battery-powered receiver on his collar which picks up a coded signal from the wire. When the pet comes within the signal range (adjustable from 0.5m/2ft to over 5m/15ft) , he hears a continuous warning beep from the receiver which he must learn to obey.
If he ignores the warning - as he may just a few times at the beginning - he receives a correction similar to the static electricity sometimes experienced from a car door or lift button.
The correction doesn't harm him at all, but it startles him and he doesn't want to repeat the experience.
Most pets are trained within a week or so, and everyone can then begin to enjoy the benefits of the Freedom Fence™.