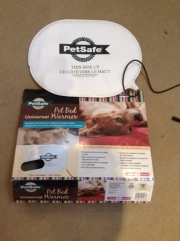 Click image to enlarge.
Universal Pet Bed Warmer

Pampering your pet just became easier! Simply slide the Universal Pet Bed Warmer™ into your pet's existing bed to add a gentle heated luxury. This unit uniquely combines a padded layer, controlled therapeutic heat and the Pro-Flex™ safety layer, which prevents bunching and adds extra comfort within your pet\'s bed.
Our heated bed gives a safe, low-level heat that relaxes stiff joints, relieves sore muscles and provides soothing comfort for a healthier and happier pet every day!
It runs on low voltage power, using the same energy as a night-light, and comes with a 3-year warranty.


Special Offer includes P&P