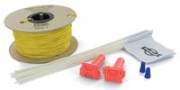 Click image to enlarge.
Add additional wire and flags to increase your fence area. This kit will compliment the wire and flags that come with the In-Ground Fence system.

* 150m (500 ft) light weight wire
* wire 0.75mm thickness
* 50 flags
* Compatible with PetSafeŽ
In-Ground Fence systems





Currently in stock.