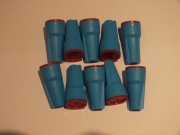 Click image to enlarge.
DryConn Waterproof Connectors

pack of 10

DryConn Waterproof Connectors can be used wherever moisture or corrosion exists. The unique twist-on connector is pre-filled with silicone sealant to make it simple to waterproof splices and protect against corrosion. The product is easy to install, and eliminates the need for using time-consuming products like heat shrink, tape, mastics and corrosion kits. The products are available for Outdoor/Irrigation, Outdoor/Electrical, Direct Bury and Low Voltage usage.


Currently in stock.