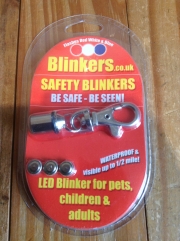 Click image to enlarge.
Pet safety Blinkers.
•For pets, children and adults.
•Visible up to 1/2 mile.
•Flash red, white and blue.
•Waterproof.
•Metal casing.
•Simple to use led keyring.
•Easily attach to anything.
•3 free spare batteries
•Our blinkers can be easily attached to dog collars, dog leads, clothing, people, etc. They simply clip-on!

Currently in stock.